Some people seem to be confused about why I haven't touched on all this Amare for LaMarcus talk. Yes, I've heard about it over and over again just like you. But the fact that we've heard about it so much most likely means it won't happen. But
those rumors won't let us move on
:
Sources told ESPN.com that the Chicago Bulls, Miami Heat, Detroit Pistons and Portland Trail Blazers are among the many teams with whom Phoenix has exchanged trade concepts, with the Bulls and Heat believed to be pursuing Stoudemire hardest at this early stage.

Almost every team in the league has some degree of interest in Stoudemire, but sources close to the process maintain that the Suns will only part with the 26-year-old in a deal that delivers at least one decent-sized expiring contract along with younger talent and/or draft considerations.

So yeah,
this fits
: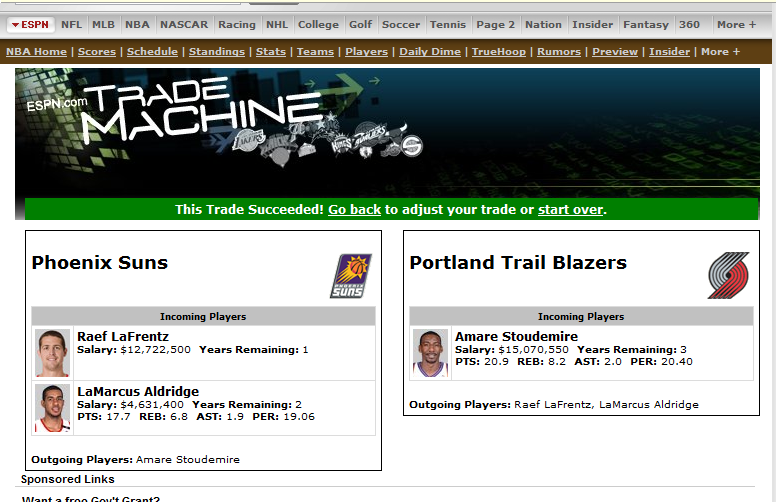 I have to respectfully disagree with my neighborhood blogging associate over at
Blaze of Love
that this trade would somehow be a wash. While LaMarcus and Amare share the same lack defensive prowess, Stoudemire is a potential Hall of Famer while Aldridge seems likely to top out at All-Star. I am a LaMarcus supporter, but can you ever see him making an All-NBA squad? At age 24 like Amare did?
Then again, watching Amare struggle (for him) in the Shaqtastic Phoenix offense gives me some hesitation. Would he be able to be the monster that he is in a mostly plodding and stagnant Portland system? It would not be the best fit for him, but he would surely see the ball more than he does out in the desert.
Mostly likely, none of this matters. If you are Portland, why take the risk? The team is still young and developing. Things look bright, and no one can be sure what this team may or may not need to earn a future championship. It is an exciting rumor, and fun to ramble about. But yeah, let's move on.